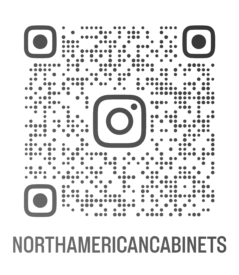 On behalf of North American Cabinets I would to take a moment to update you on our recent efforts to enhance our social media presence and connect with our valued partners like yourself.
We are thrilled to announce that we have officially launched our Instagram account! This new platform will serve as a dynamic space for us to share exciting content, showcase our latest products, and highlight successful projects and installations. We been working diligently to create engaging and informative posts that reflect our commitment to excellence. We will be posting regularly to keep you informed about our latest developments, industry trends, and valuable insights.
We invite each and every one of you to follow our Instagram account @northamericancabinets and be part of our growing online community. By following our account, you will have direct access to our updates, announcements, and exclusive content. We encourage you to engage with our posts by liking them, leaving comments, and sharing your thoughts. Your active participation will help us foster meaningful conversations and build a stronger network within our industry.
Additionally, we encourage you to tag us in any relevant projects, installations, or initiatives that you are proud of. We would love to feature your work and highlight the valuable contributions you bring to our brand. By tagging us, you ensure that your projects reach a wider audience and receive the recognition they deserve.
Your support and involvement are crucial in our journey to improve our social media presence. Together, we can create a vibrant and interactive community that benefits all of us.
Thank you for your ongoing partnership and dedication to our brand. We look forward to connecting with you on Instagram and sharing inspiring content in the days to come.
Best regards,
Your Team at North American Cabinets