FlexyLED 12V
Developed with a new diffused silicone extrusion technology, this soft profile is conceptualized for recessed installations in any type of groove : linear, waves, rings, or any organic shape. With FlexyLED there are no limits!
SPECS
No need for glue or adhesives, the FlexyLED strip simply needs to be pressure-fit into a pre-milled groove.
Fits in a recessed groove of 4 mm wide x 10 mm deept for a flush installation.
12 W of power per meter. 120 LEDs per meter.
Micro 12 connector.
Can be cut every 25mm to adapt to your unique design, once strip is cut it cannot be reconnected.
| | | | | | |
| --- | --- | --- | --- | --- | --- |
| Model # | Light Color | Kelvin Color Temperature | LED Strip Length | Watts | Power Cable |
| 128024124040 | Neutral White | 4000 K | 1000 mm | 12W | Single |
| 128024122040 | Warm White | 3100 K | 1000 mm | 12W | Double |
| 128024124079 | Neutral White | 4000 K | 2000 mm | 24W | Single |
| 128024122079 | Warm White | 3100 K | 2000 mm | 24W | Single |
| 128024124099 | Neutral White | 4000 K | 2500 mm | 30W | Single |
| 128024122099 | Warm White | 3100 K | 2500 mm | 30W | Double |
| 128024124119 | Neutral White | 4000 K | 3000 mm | 36W | Double |
| 128024122119 | Warm White | 3100 K | 3000 mm | 36W | Double |
REGULAR POWER SUPPLY
78 3/4″ (2m) power cable and terminal block with up to 10 ports for connecting 12V lights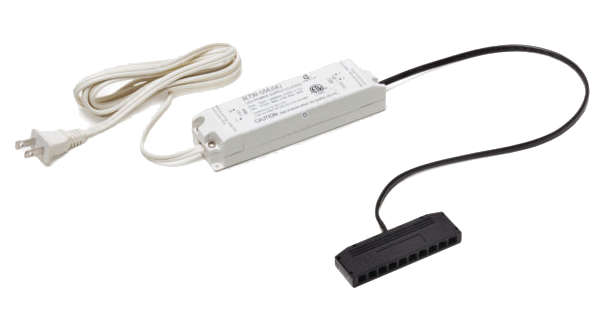 | | | | | |
| --- | --- | --- | --- | --- |
| Model # | Watts | Length | Height | Width |
| 51206 | 6W | 200 mm | 35 mm | 58 mm |
| 51215 | 15W | 5 1/16 in | 23/32 in | 1 13/16 in |
| 51230 | 30W | 5 15/16 in | 1 1/4 in | 1 5/8 in |
| 51260 | 60W | 185 mm | 31 mm | 60 mm |
DIMMABLE POWER SUPPLY
6 ft power cable
For optimal dimming, a 10% minimum load or higher on the power supply is required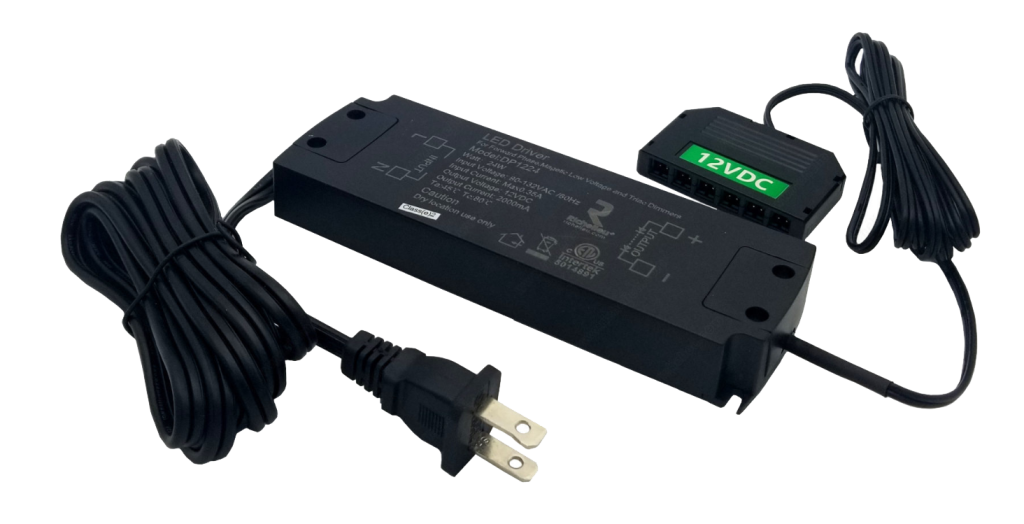 | | | | | | |
| --- | --- | --- | --- | --- | --- |
| Model # | Max Fixtures per Driver | Watts | Output Ports | Length | Width |
| DP1212 | 4 | 12W | 3 | 135 mm | 52 mm |
| DP1224 | 8 | 24W | 6 | 156 mm | 53 mm |
| DP1250 | 16 | 50W | 16 | 178.5 mm | 61 mm |
DIMMABLE POWER SUPPLY WITH HARDWARE
6ft power cable and dimmable LED power supply with power cord for plug-in or hardware option
For optimal dimming, a 10% minimum load or higher on the power supply is required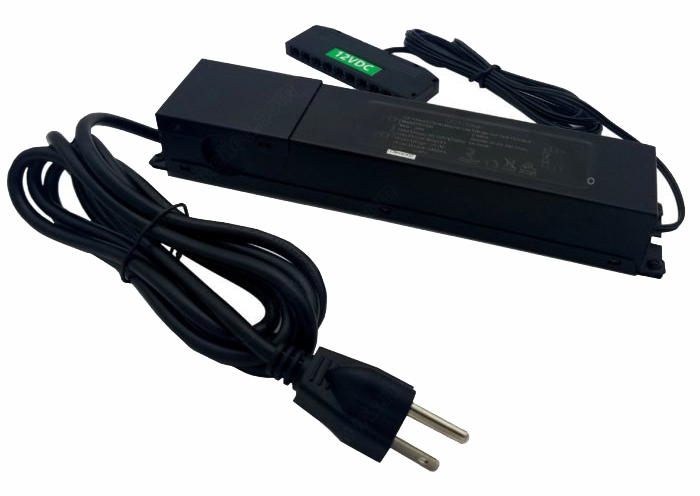 | | | | | | |
| --- | --- | --- | --- | --- | --- |
| Model # | Max Fixtures per Driver | Watts | Output Ports | Length | Height |
| DH1224 | 8 | 24W | 6 | 215 mm | 51 mm |
| DH1236 | 12 | 36W | 10 | 215 mm | 51 mm |
| DH1260 | 20 | 60W | 20 | 215 mm | 63 mm |
| DH12360 | 60 | 3 x 60W | 30 | 304 mm | 84 mm |